Publisher: SNK
Year: 1987
Genre: Top-Scroll Shmup

Space Shooters are a staple genre of the NES. You might recall me giving Gradius the first perfect score of this blog, so I'm certainly not biased against them. Shmups, as they are sometimes called, have represented a huge slice of the gaming pie – and a rather delicious slice at that!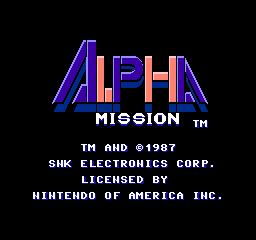 Having said that, there are certain qualities I expect in a space shooter. The first is variety – repetition is a huge game killer for any sort of Shmup, so a large variety of environments and enemies is a must. The second is graphic consistency – if a game takes itself seriously, it should make an effort to do so throughout the entire experience, keeping powerups – for example – looking like part of the environment rather than annexes to the games graphic library. The third is a aesthetic quality – the audio and visual experiences should be unobtrusive if not pleasant. Alpha Mission is a generic space shooter example of not working very hard on any of this.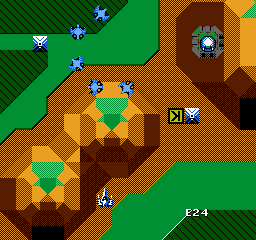 John's Rating: 2.0 out of 5.0. The only thing that stands out about this game to any meaningful degree is how annoying the music is. Beyond that, it's pure vanilla paste.