Publisher: Broderbund
Year: 1987
Genre: Action Adventure
In Deadly Towers, you're a knight or prince of some sort (it's in the opening cinematic, I just forgot and refuse to waste my time reading it again) and everything is trying to kill you. Fortunately, you throw knives. Knives that can kill anything. Fire attacking you? Stab it until it dies! Blue orb? Stab it until it dies!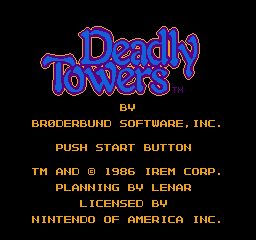 The game is, for the most part, a collection of poorly thought out or incompetently executed game mechanics. You have 100 hit points to start with, but it probably wouldn't help you to have a million hit points. The game has mercy invincibility, for example, but it lasts for less than half a second and paralyzes and knocks you backwards in the process. If you are against the wall, the enemy hits you again immediately, and you're doomed. If you fall off a cliff, you die, and enemies can and will push you off. And speaking of enemies, it's also worth noting that the game has, essentially, four enemies with dozens of different skins and palette schemes. Oh, look – it's the knight guy from the last room, only now he's inexplicably a dragon-headed man. Oh, look – it's another kind of bat with the exact same movement pattern as all the other varieties.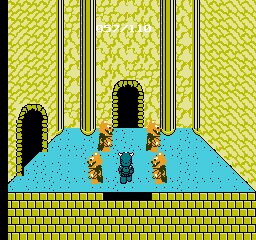 John's Rating: 1.5 out of 5. Deadly Towers is a game that has been hailed by some as the very worst Nintendo has to offer, and while I heartily agree that the game is terrible, it sadly wouldn't even make my top 10 list of worst Nintendo games of all time.