Year: 1985
Publisher: Nintendo
Genre: Pinball
Games that pretended to be something else used to be a really cool thing. "Check it out!" the game would say, "I'm a slot machine!" "I'm a pachinko machine!" "I'm a video poker game!" "I'm a monopoly simulator!"
"I'm a pinball machine," seemed to be one of the more popular choices.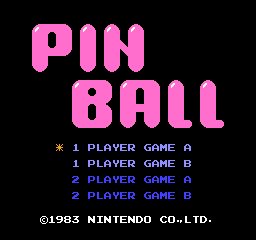 Pinball – where to start? How about, "The Nintendo Entertainment System is incapable in any meaningful capacity of successfully effecting a reasonable simulation of physics." Now, I'm not arguing that a game has to be accurate to physics to be enjoyable – I'm just saying that in this case it isn't.
"Whoa!" you say, "you're jumping the gun here! Shouldn't you go into what the game is all about before you simply declare it unfun and move on?" To this I ask, "Have you played pinball?" Seriously – what is there to say?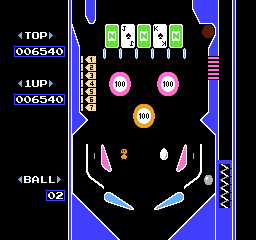 Now, one of the benefits of having pinball be a video game and not a pinball machine is that you could very well make the pinball game do things that wouldn't work in real life – maybe gravity-defying effects or little mini-games or something. This one, for example, has an incomprehensible breakout-style mini-game, which is about half as fun as that description makes it sound.Ok, let me give you the plot of the game – there's a metal ball; you use a spring to shoot it up to the top, then it falls toward the bottom. The object of the game is to use bumpers to make it stay toward the top, preferably while banging the ball into as many foreign objects as possible. TADA! Pinball!
John's Rating: 1.5 out of 5.0. Here's the bottom line – if you want to play a video pinball game, there are better ones for the Nintendo, not to mention those for other systems (up to and including the PC).