Publisher: Data East
Year: 1987
Genre: Shmup Side-Scroll

In BreakThru, you are the driver of a jumpy car (a fairly common video game theme even today) who must drive into enemy territory, assault their base and recover a top secret jet of some sort (top-secret jets are also a fairly common theme).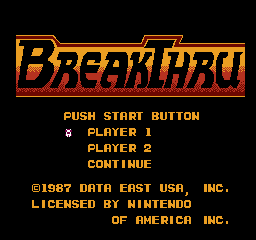 Along the way, you'll battle enemies that shoot constantly into the area you have to occupy to even have a chance to shoot them, parachutes that prevent their precious cargo from ever reaching all the way to the ground, and chunky controls that will kill you more effectively than any of the enemies can hope to.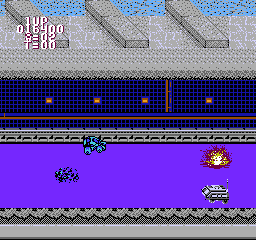 John's Rating: 2.0 out of 5.0. There's not too much mechanically wrong with this game, it's just hard to pinpoint anything this game did right. The graphics are lackluster, the gameplay is bland and unsatisfying, the enemies are dull yet difficult, and although the sound is not overly annoying the best that can be said of it is that it is forgettable.