Year: 1986
Publisher: Nintendo
Genre: Action

I should probably do Donkey Kong Jr. first, as it is technically the second game in the Donkey Kong series and also was released chronologically before this one, but as the games don't exactly lead into one another, I feel little to no remorse about sticking with alphabetic order.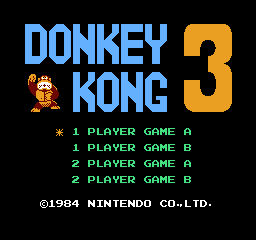 Having said that, Donkey Kong 3 is a game wherein you spray a monkey's hindquarters with insecticide in an effort first to drive him away, then to mash his head into a bee's nest, presumably out of spite over his attempts to teach his son math; all this while attempting to protect flowers and avoid bee stings.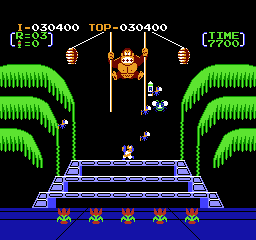 John's Rating: 3.0 out of 5.0. This is a solid, albeit simple, action game, all things considered, and stands as proof that familiar characters can be transplanted into unfamiliar gameplay without making a game suck by default. Mind you, Super Mario Bros. 2 and The Adventures of Link both prove that, but they're hardly unanimously accepted. Also, BEES!