Publisher: Nintendo
Year: 1986
Genre: Platform
In this thrilling sequel (prequel?) to the original Donkey Kong title, you are Donkey Kong Jr., and you must rescue your father from Mario, who has locked Donkey Kong up, possibly for kidnapping Pauline in the previous game. Naturally, therefore, the best course of action would be to release him and allow Stupid Monkey to continue his rampage, possibly at an oversized greenhouse. I digress – as his son, it is your duty, and if you should knock some fruit down or injure some plumbers along the way SO BE IT!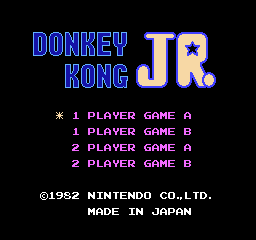 Donkey Kong Jr., while not perhaps the most memorable or diverse game, was still a worthy addition to the Donkey Kong series and to the Donkey Kong family canon. The controls are well-composed, so movement feels natural and makes sense. The climbing mechanics are interesting and logical, and the power up are predictably fruit-flavored. The enemies consist primarily of some sort of living jaw-traps and, of course, the levels themselves, which are often built specifically to confound the physics under which our gorilla baby operates.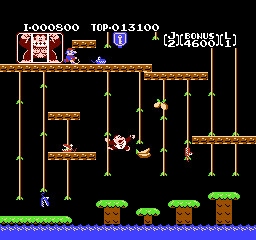 John's Rating: 3.5 out of 5.0. It's quirky, but generally loveable. It's not exactly the sort of game that amounts to "hours of fun," but I'll often settle for "minutes of enjoyment" or "moments of nostalgia" in a pinch.