Publisher: Taito
Year: 1987
Genre: Platform – Top-Scroll
The Elevator Action manual says that you are "Super Sleuth," "Agent 17," "Codename Otto," but let's face it: none of that has any bearing on the game whatsoever. In Elevator Action, you are a guy who tries to get to the bottom of a building after, for some reason, deciding to use a zipline to start at the top of the building. On the way down you can go into some doors and come out with paperwork, which scores you points. You can also shoot and jump-kick enemies.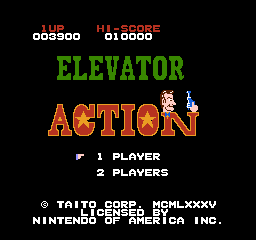 I'll be frank about this game – it can be fun, but there's really nothing to it. It comes from an era when video games were still finding their footing. The controls are clunky and cantankerous, the enemies are slow and predictable and the game itself is vanilla flavored bland. If you fail to get the paperwork from one of the red doors, you are magically teleported back up to that floor when you get to your sporty little car at the bottom. However, if you DO get all of them, you are magically teleported to the TOP and the building changes color. Each iteration gives you enemies that spawn slightly more readily and are slightly more eager to shoot you, but the layout, gameplay and arrangements don't change.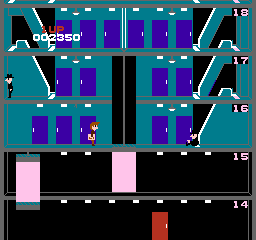 John's Score: 2.5 out of 5.0. The game isn't unplayable (although the touchiness of positioning may prove infuriating at first), but there really isn't a compelling reason TO play it. Once you've made your way through the building once, the game is genuinely out of things to offer.