Publisher: Konami
Year: 1987
Genre: Platform – Side-Scroll, Adventure
You remember the Goonies, right? Beloved 1980's cult flick involving pirate gold, Cyndi Lauper (along with some pro wrestlers) and truffle shuffles? Remember the sequel where the Fratellis kidnapped all of the Goonies except Mikey as well as a mermaid, and Mikey had to rescue them with the help of a colorful cast of characters such as an old man and woman, a fish man and an eskimo?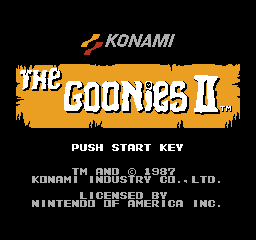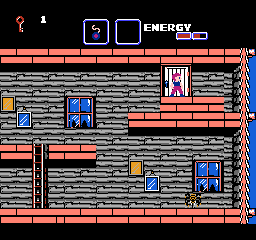 Apparently, the Goonies were popular in Japan. I can't possibly know this, of course, because I'm not Japanese and have never even been to the Land of the Rising Sun. This is evident, however, in the fact that a video game was licensed as a "sequel" even though Hollywood never attempted this feat (although given the current state of Hollywood, it's only a matter of time before we see a remake – probably a darker imagining of the story, but I digress).The Goonies II ("The Fratelli's Last Stand" in Japan, only with Japanese words) was an adventure game made by Konami who, presumably, made the entire game without realizing it would be a Goonies game, then haphazardly slapped the license on the finished product. The introduction / continue screen features the Fratelli brothers in the background and Mama Fratelli saying things with a menacing scowl on her face, but within the gameplay itself, the only things that link it to the Goonies are the Fratelli brothers (dressed as generic mobsters) and a few lines of dialogue (which are more like monologue) that mention "Mikey" or "Goonies" – apart from that, the game could be about literally anything else without changing gameplay at all. Even where they tried to make it match the film they changed things: in addition to the two actual Fratelli brothers from the movie, they shoehorned in a Fratelli cousin named Pipsqueak into the game (most likely to try to have a third enemy in the game that they can link to the film).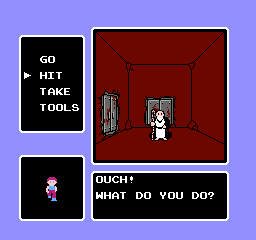 Beyond that, the enemies consist of demon knights and ghosts in some areas, snakes and spiders in others. It doesn't particularly matter because none of them are really threatening enough to be dangerous in the long run as their patterns are predictable and simple. The gameplay is pretty typical platform fare for the most part, and the weapon selection is not unusual for a NES game, with slingshots and yoyos alongside molotov cocktails and bombs. You can't kill any of the human enemies – they just fall over like confused turtles and waggle their legs before recovering to try to kill you – but ghosts and vermin are a-ok.
Another feature of the game is a series of rooms in classic 3d dungeon-crawler style where you encounter nonviolent (but generally useless) NPCs who inexplicably label otherwise uninteresting rooms as "warp zones.'  There is a "puzzle" aspect involved here where you hit random places with a hammer until something happens, and a "maze" aspect where you wander between these rooms discovering a completely irrational system of interconnection between them.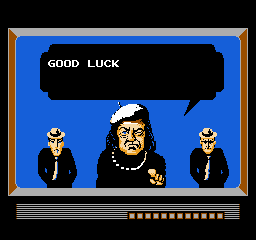 John's Rating: 2.0 out of 5.0. Gameplay is repetitive, and unless you're consulting a walkthrough you'll do a lot of pointless backtracking through sparsely populated areas where nearly harmless enemies will try to bite at your ankles. All this while a terrible chiptune version of "The Goonies 'R' Good Enough" by Cyndi Lauper blares on endlessly.