Publisher: Data East
Year: 1986
Genre: Fighting

The NES isn't really well-suited for one-on-one fighting bouts as this game succinctly demonstrates. Mind you, the NES can do way WAY better than Karate Champ with its clumsy (at best) hit detection, its tiny generic move list and its unpleasant graphics. The controls, B to attack left and A to attack right, will be recycled in Double Dragon II, where they will not suck. This awful game didn't deserve anything that useful anyway.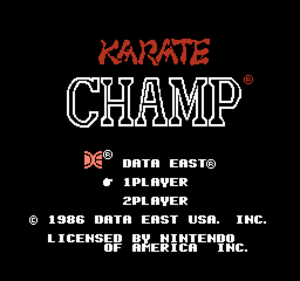 The game does not find any redeeming quality in the presentation. The sound and music are terrible, but in a forgettable way. The graphics are ugly, jerky and look rushed, like someone with some talent struggling to make something in a medium they have never used – just good enough to be annoying. Somewhere between adequate and inadequate.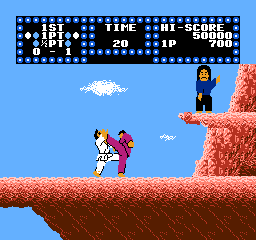 John's Rating: 1.0 out of 5.0. This is just awful. It's vaguely reminiscent of the much better game Barbarian, which was sadly never ported to the NES. Except, where Barbarian features awesome swords and vicious bloodthirsty barbarians dueling to the death for bikini-clad babes (not to mention a useable control scheme with  moves that were of varying utility), Karate Champ has a constipated old man watching people in bathrobes kick each other.